We keep it
interesting.
We keep you
motivated.
We keep it fun.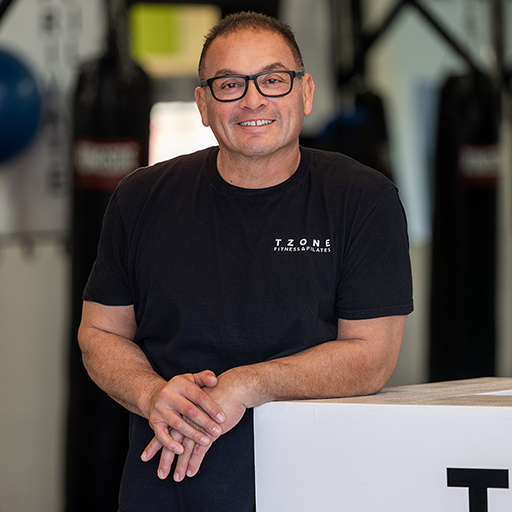 Sean Canova, Founder of TZONE
TZONE is a fitness center designed to be fun, fresh, and engaging for both fitness novices and exercises experts. Founder Sean Canova opened the doors 30 years ago and has been bringing his passion for health and fitness to the masses ever since.
Sean and his team of certified trainers and health professionals create functional exercise programs that are challenging and effective. Class sizes are small so that each student gets the attention they need to have a safe workout and a great time!
We get it: gaining strength, losing weight, and achieving a healthy lifestyle is hard. It is! Well, we're here to make it easier. Our fast-paced classes incorporate pilates, body-weight and functional movements, and a variety of fun exercises that make getting in shape a blast.
Check out our class schedule
Transform yourself with a full-body experience. Our group Pilates classes engages your core and your mind with reformer-based exercises that maximize results with low-impact movements.
Fight those bad vibes with a truly kickass class. Cardio-Boxing mixes shadowboxing, bag work, and continuous cardio that increases your strength and knocks the pounds right off!
Ready to crush your fitness goals? HIIT classes are exciting high-intensity workouts that are designed to increase mobility, strength, cardiovascular health, and elevate your metabolism to BURN body fat.
Take your workouts to a whole new level. With one-on-one personal training sessions our experts will design an exercise plan that works for your individual needs and pushes you to achieve your fitness goals in a safe and fun manner.
Take charge of your body on your own terms. Private sessions allow us to tailor a workout that addresses your injuries and individual needs so you can increase muscle tone and flexibility in the fastest way possible!
Fuel your growth with the right ingredients. Our nutritional plans take all your needs into account and outfits you with a blueprint, a fitness program, and weekly visits to keep you on track to optimize your body.